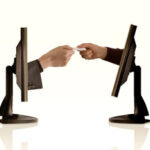 As a business owner networking is a big part of my business, to discover services out there that may be useful in the future, and to help educate others about the Virtual Assistant industry in Australia.  I'm not sure about you, but I would much prefer to use someone I know or who is recommended than someone I find by Google search.
Although it would be easier to just hand someone your business card and leave, hoping they will keep your card and eventually need your services, to make networking worthwhile you need to make an impression, so you generally introduce yourself and find out a little bit more about the person and then exchange business cards.
Robyn Henderson gave a great presentation at AVAC about networking and suggested creating a folder with plastic sleeves and each time you return from a networking function you file the cards away in the selected sleeve with any notes etc. She also suggested folding the corner of the cards of the people you need/want to follow up on before you put it in your pocket.  Writing notes on the card is another option, but not always as easy on the spot. Folding the corner of cards serves as a reminder of the people you need to follow up on, so you can make notes following the event as to why you're following up on them, follow them up and connect with them on social media.  Robyn also suggested keeping a stash of blank greeting cards, so you can send personalised cards for different occasions, it's always nice to get a personalised letter or card in this world of texts and social media.
Finding time to attend networking functions in a convenient location at a convenient time isn't always easy, so virtual networking can be a great option.  Social media is a great place to virtually network.  Although Facebook is my preferred social media site for spreading the word, Linked In is my preferred networking site to meet like-minded business professionals and network virtually!
Linked In is a great virtual networking tool and great for building a network and learning more about people and the services they have to offer.
Linked In gives you the ability to search for people in your target market, or join groups with similar interests and find out more about people. Like networking in person I believe that it is important to not just send an invitation, with the standard linked in message, but to personalise the message as to why you would like to connect with the person. I believe a network of quality rather than quantity of people is a better way to form a network, and by personalising the invitation this shows the person that you are have taken the time to find out a little more about the person, and not just trying to see how many people you can connect with.
If a person sends you an invitation, you can just accept and do nothing, however if you're serious about building your network this is a great opportunity to learn more about the person.  I prefer to view the persons profile, check out their website and send them a personalised message, asking a question about them or offering a profile suggestion, I also like to include a brief paragraph introducing myself.
I have found this to be great for my business, although some people don't respond I quite often get a response saying thanks, or asking for more details about my services, which is a great way to spread the word about the Virtual Assistant Industry, and to learn about other great services on offer out there.
Networking is not a one size fits all, so what works for me may not be a good fit for another business, and like everything in business, changes as you go.
If you have any great networking tips or ideas that have worked for you, I would love for you to share them.