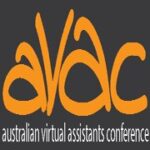 Recently I attended the 5th annual Australian Virtual Assistant Conference (AVAC 2014), which was in Brisbane this year, and I'm grateful I did.  I have been privileged enough to attend every AVAC, and like previous years it was a jam packed 2-days full of info; the organisers did a great job.
Like every conference/seminar you come away with long lists of ideas and things you should be doing, and want to be doing.  Over the years I have discovered that if you try to do everything you learn, or works for others, there is no time for actual business, so you need to determine what works for you, and implement/try one thing at a time.
While I learnt a lot, here are some of the key things I was reminded of or learnt at AVAC that I have/can put into action straight away:
If you ever have the chance to listen to any of these speakers, I recommend you do.
The best part of the conference is networking with other VAs, you have the opportunity to make great friendships, and pick up some great tips on how others handling different things.  Networking is important for business whether it be with people in the same industry or other industries.
Already looking forward to AVAC 2015 –bring on March 2015 – if you're a VA it's time to start saving now.